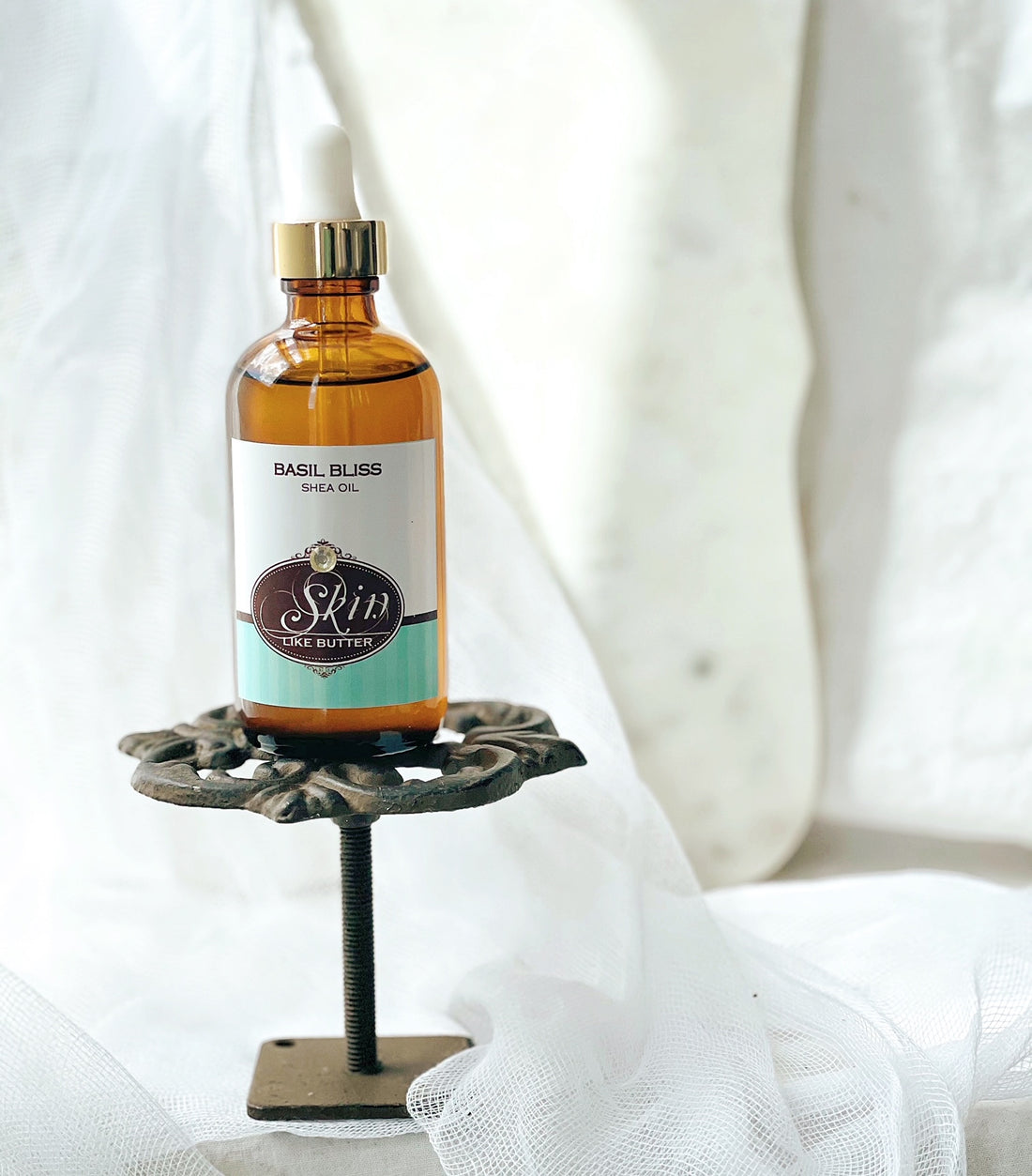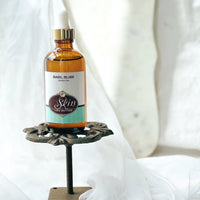 BASIL BLISS - Shea Body Oil - 4 oz amber glass bottles, highly moisturizing
Scent Description: Actually more bliss than Basil.  The basil is there, but in the back of a symphony green, citrus, and white floral notes that make for an elegant spa blend. If you are looking for a straight basil scent you won't like this, but if you are looking for a clean elegant head turner this is spot on.
*PRO TIP- Save $9 when you buy 2 Shea Oils  here
ONE OF NATURE'S MOST LUXURIOUS OILS

Shea Oil is derived from the production of Shea Butter.  It is more difficult to create Shea Oil and is therefore more rare.  Rarer still is hand deodorized Shea Oil that is completely unscented which provides a blank canvass for our beautiful scents.  This way we stay true to our brand promise of the best of both worlds.  Which is beautiful scents in highly effective body products that have an enriching effect on your skin.
 SHIPS IN 3-5 WORKING DAYS 
DISCOVER OUR 15 NEW SCENTS
Almond Milk
Beignet
Cashmere
Char
Chrome
Coffee Ice Cream
Lavender Patchouli
Lemon Rosemary
Montauk
Petit Fours
Pouched Pumpkin
Spa Day
Royal Orchid
Throw Blanket
Vanilla Wafer
CELEBRATE FALL
SAVE 30% OFF
Get 30% off our Body Butter, Roll on Perfume, and Room and Body Spray!
Here are just a few delicious scents you will find in this years FALL TREASURE CHEST
ARUGULA
BIRCH
BLACK PEPPER
CREME BRULEE
DULCE DE LECHE
GINGER ALE
HONEYSUCKLE TUBEROSE
MANUKA HONEY
POMEGRANATE
SALTED CARAMEL
TIBETAN BLACK TEA
and more
The Treasure Chest is available from September 23-December 21
Use coupon code EUREKA
SHOP NOW